Museum Tidings
The official quarterly newsletter of the Tehama County Museum
(Web Edition)

Seasonal Issue 1999

KEEPING THE DOORS OPEN FOR FUTURE GENERATIONS
Tehama County Museum Foundation
275 C. Street
P.O. Box 275
Tehama, CA 96090
Phone: (530)384-2595
Email: tcmuse@tehama.net
Web Site: http//www.tehamacountymuseum.org



JUBILEE REPORT

IF you weren't able to come this year, you really missed it! This was the second most successful JUBILEE we have ever had. A nice addition was the Friday night Street Dance to sponsor the Museum Annex project.

We had some of the verv favorite performances of former years plus some new stunts that added up to a great success. The food was good and plentiful, but nothing was left over ... which is good! We had out-of-county visitors who talked about former days. We had new exhibits in the Harvey Room (I'll bet you didn't know that Charles Harvey was not only a partner of George Simpson but was also a cousin!) We had lots of help from lots of people, many of whom were not even members of the Museum but liked the IDEA and we are eternally grateful to them.

NEXT year…. in the year 2000, that is we hope to involve more of our own members and let them in on some of the fun. Even the weather cooperated … not too hot but nice and sunny! Oh. who could ask for anything more!!!

PRESIDENT'S NOTES

Thank you so very much for the generosity shown by purchasing the Museum's raffle tickets. You broke all records since 1993. Some of the funds went to purchase several portable large canopies which were used for shade during the Jubilee. This is a necessity with our hot weather and will make it possible to continue outdoor activities here for people who attend. Likewise, maintenance work on the heating and air cooling systems was made possible. Again, many thanks to all of you members.

As to the mentioned motion and resolution of the Board concerning the teaching of classes of history at the Museum, I must mention that I was on vacation when this special meeting was held and am trying to understand its benefits. It appears that these steps are to qualify the Museum for the receiving of grants. Now this is a major policy change for this organization, and I want to encourage you to think about it and feel free to write your comments to the Board. I think the rationale behind this is to get the Annex built. They have really worked hard at raising funds and it is a very slow process to get such a large building up. Nevertheless, a commitment to hold classes at the Museum was passed without an explanation how this is to be accomplished or what the impact on our facility will be to make this happen. I am sure the Board wanted to authorize its support through the resolution. But, call me a stickler, a plan should first be submitted and studied. If you have any thoughts on this, please feel free to call any of the Board members and have them explain their position. I know I am looking forward to exploring this new direction for the Museum.

My term as president is about up, and I must say that it has been a pleasure serving you for the past two years,

Yours truly, Paul Quinn

HISTORY CONSORTIUM

Our Dick Chamberlain has started a group meeting of representatives from other county Museums to meet and discuss mutual problems, share event dates, possibly do bulk buying if needed, and other cooperative activities. So far it is very successful.

(Another editorial boo-boo)

On the list in the last Tidings of the phone numbers for Board members, I not only didn't have Bil and Jeannie Crook listed with the same number (they DO live in the same house!), neither of the numbers I showed was right! So here goes with their number plus some new board members'.

Bil & Jean Crook……..384-1109
Hugh Mills………527-2300
Lew & Aritha Zink……384-2-?84


Some of you will remember the Zinks from when we first began and Lew was our "Ship Captain" greeting guests for most of our Riverboat Galas. Hugh taught history at Red Bluff high school before retiring. And I did not make a mistake with Mr. Crook's name with only one "l". That's the way he spells it!

THE LAST SOCIAL EVENT OF THIS CENTURY!!!

Mark your calendar for Dec. 12th. That is the date for the annual Christmas Party, and that will mark the closing of the Museum for the Christmas Break. No waiting up 'til midnight ... no dropping of the Golden Apple... no anything but being with a warm friendly group for some nice carols, some hot chocolate or, perchance some hot cider, and other seasonal goodies and a chance to bid each other a wish for even better times in the coming century. YOU CAN'T DO THIS EVERY YEAR, Y'KNOW!!!

COMING EVENTS

First up for 2000 is the biennial QUILT SHOW dedicated to honoring our two presidents. The dates this year are Feb 18-20th. Lunch, as usual, will be available all 3 days. There will be quilts you haven't seen before and wonderful sharing of Quilters' Lore!.!!

The second event will be the second annual CORNED BEEF & CABBAGE DINNER, honoring St. Patrick... and those of us from Irish descent.. THERE WILL BE AMPLE FOOD THIS YEAR, so no one will be turned away hungry... and if you look carefully, you well may find leprechauns in the corners!

Then on May 13th at 6:30 PM will celebrate the 20th year of our Museum with A RIVERBOAT GALA CRUISE! Since we will be 20 years old in the year 2000, it seems appropriate that we celebrate big-time with a return of the elegant Gala. This is not an annual event, and we are limited to 225 seated persons, so you will want to reserve your tickets as soon as they are available. This event is set for the evening before Mother's Day and would be a delightful way to honor our mothers. Watch the next TIDINGS for more on this beautiful event!

ARMISTICE DAY PARADE, NOV. 11th.

A most successful parade and celebration marked the honoring, of Veterans from 1899 to 1999, Begun as a salute to the "boys of World War I", Armistice Day has been expanded to include all Veterans within the dates mentioned above. The skies were gray (as they seemed to be in the closing days of 1941), but rain held off. Veterans from both Corning and Los Molinos, Boy Scouts, and the Tehama 4H Club gathered at the City Hall with flags and guns and uniforms, and marched from there to the Museum. The flag was lowered to half-mast when Taps was played. Mayor Ron Warner welcomed the big crowd of folks assembled, Paul Quinn added some information about the Day, Margaret Bauer recalled the first Armistice night in California , Liz Graffell sang the Star Spangled Banner and Martv Graffell related the founding of Veterans of Foreign Wars Association.

Verterans Day Ceremony

Dean Gorby directed the Girls' Chorus from the Los Molinos School in an arrangement of the Battle Hymn of The Republic. Following the ceremonies, refreshments were served inside the Museum to a large enthusiastic crowd.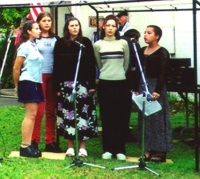 Girls Chorus Los Molinos School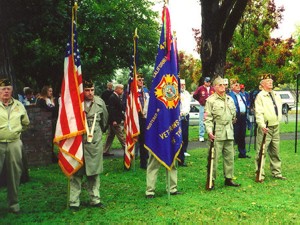 Parade Organized by Marty Graffell

Marty Grafell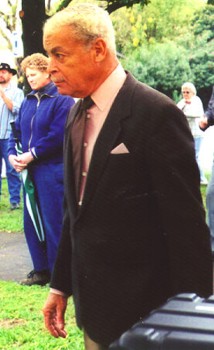 IN MEMORIAM

FRANK CLARK

Word has been received here of the death of Frank Clark in Alamogordo, New 'I'lexico. Frank and his wife, Mildred, were members of the Board for quite a number of vears in the early days of the Museum, He was a book dealer, finding rare copies of books long out of print. He worked from his home in Tehama. After moving to Alamogordo, he began teaching at the University there. He belonged to Molino Chapter of the Masons and St. .Andrews Episcopal Church in Corning.

JOY ZEEVELD 1999

RED BLUFF

Joy was the very first Lifetime member of the Museum. She was on the Board for a number of years. One of our Memorial Redwood trees was in honor of her family. She was a member of the Eastern Star. The last honor she received was to be chosen Grand Marshall for the Round-up parade.

Well, actually this next item isn't really either one of these choices. Mebbe you should leave me eggsplane.

When we first planned the Museum, we all thought it might be a drawing card for members if we didn't ask them to come to regular meetings every month ... you know, "Oh I'd LIKE to join but a have to go to so many meetings NOW,,." etc, etc. etc, So we decided to go with that idea.

When Judge Hultgren undertook to get our paperwork for being a non-profit corporation in order, one of the things that had to be sent to Sacramento was our by-laws. He did a great job. The only thing is, we haven't read those by-laws very carefully since then. One of the things it covers is that "the entire membership shall be allowed to vote for officers of the corporation". Aha! And we haven't done that. We HAVE followed the time-table that says the nominating committee shall report at the November meeting, the election shall take place at the December meeting, and the new officers shall be installed in January.

All very well and good. The nominating committee did report at the November meeting. Now comes the next step: ELECTION at the December meeting BY THE ENTIRE MEMBERSHIP. So that means that any and ALL of you are invited to the December meeting, on Dec. 5 at 9 AM at the @museum to say what you think or to propose someone else.

The committee nominated the following persons who have agreed to serve if elected:

Pres. Bil Crook
V.Pres. Darrell Mullins
Sec'y Margaret Bauer
Treas. Nadine Clarv


So now the ball is in YOUR court! We just don't want you to feel left out!

IF YOU WANT TO SUGGEST A CHANGE AND CAN'T COME, CALL ONE OF THE BOARD MEMBERS.

HAPPY THANKSGIVING!!



Tehama County Museum Foundation; P.O. Box 275; Tehama, CA 96090
(530) 384-2595

---
© 2011 David Louis Harter, California Technologies